Afternoon temperatures have hit and even exceeded the 70s today across most of the state but things will look and feel quite differently 24 hours from now.
A cold front is pushing through the state at this time, ushering in colder air from the northwest. The front will stall out to our south tonight and low pressure will move along it. This low will bring rainfall into our area between 10pm and midnight. As colder air continues to filter in, the rain will change to snow from northwest to southeast during the night and early morning hours tomorrow. The snow will become heavy during the morning hours as the storm intensifies, before ending from west to east by late morning or early afternoon.
Current Alerts
Winter Storm Warnings and Winter Weather Advisories have been posted for parts of the state: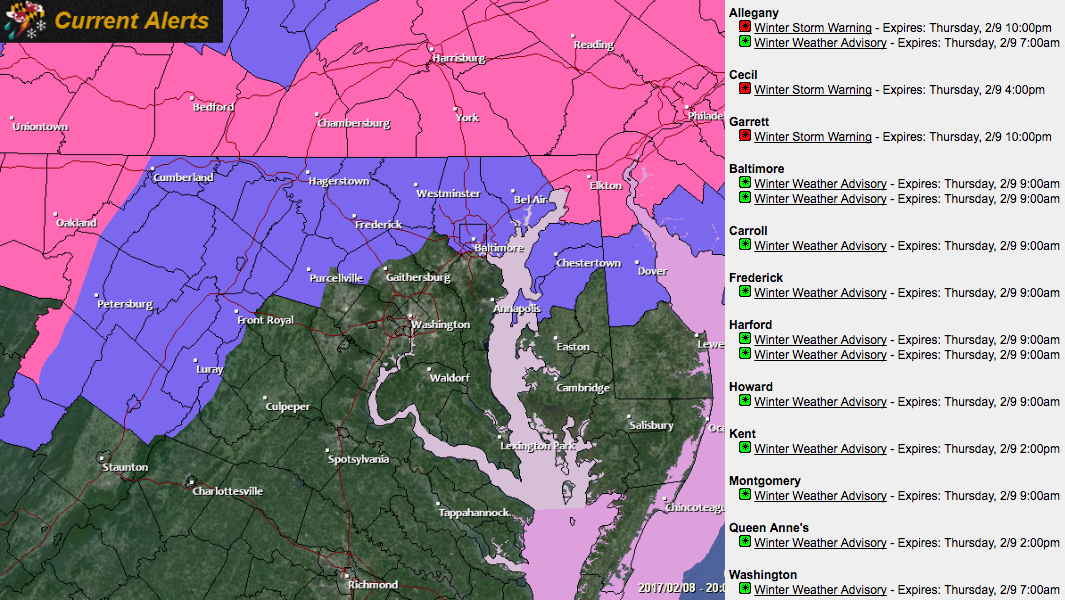 Timing
This will be a quick moving storm with rain developing tonight between 10pm and midnight and everything ending tomorrow morning.
The rain will change to snow quickly in far western Maryland and then work eastward. By 4am, the changeover should be working north central Maryland, reaching the Baltimore/DC metro area just before sunrise. Heavy snow is expected for several hours, tapering off from west to east and ending west of the bay during late morning and clearing the eastern shore by early afternoon.
Accumulations
The warmth we've seen over the past few days will greatly inhibit accumulation, especially on roads. Nonetheless, the intensity and timing of the snow will still cause travel problems for the AM commute. The highest totals will be in the far western Maryland mountains where 6-12″ is expected. Further east, totals of 3-6″ are likely along the Mason-Dixon line while areas just to the north of I-95 could see up to 3 slushy inches, areas just south of I-95 about 1″ and less than an inch expected south of Rt. 50 and Annapolis.
Here is my snowfall forecast: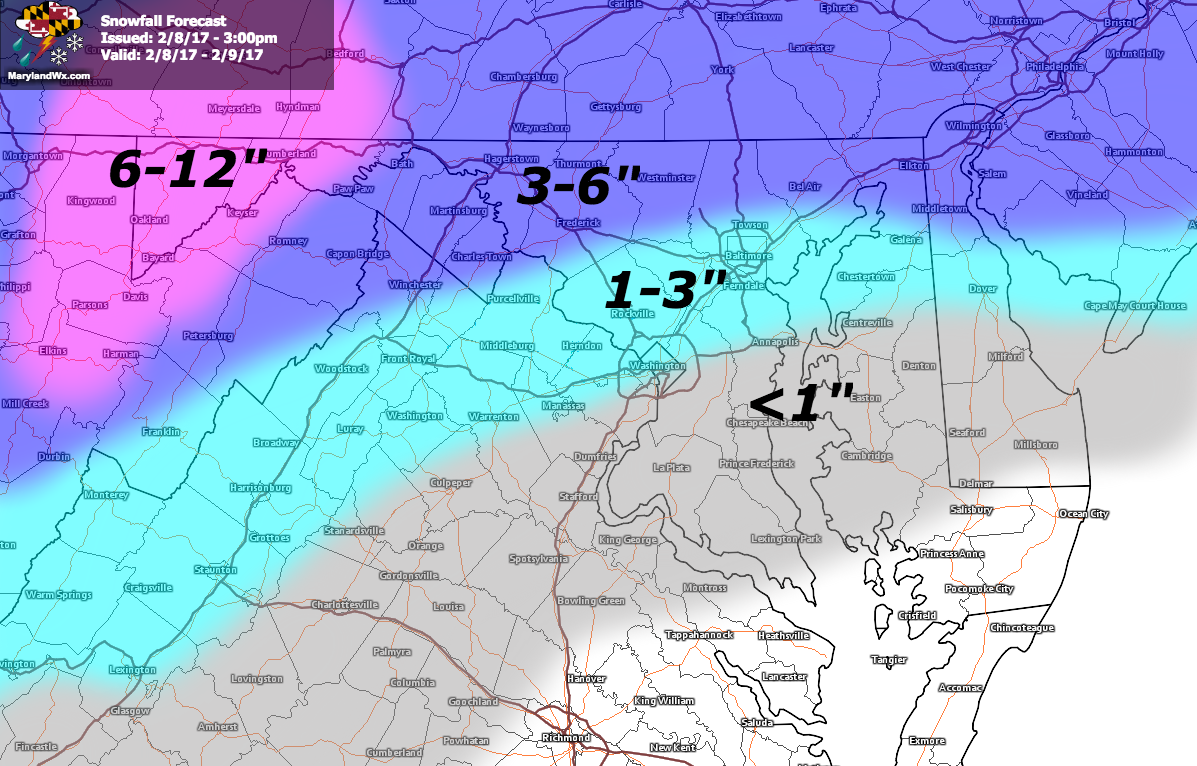 Summary
There are a lot of ingredient in play to make this a very challenging forecast. Temperatures during the storm will be marginal, the warmth preceding the storm will cut accumulations and the evolution of the storm track and strength will also factor in. As a result, confidence in snow totals is low, especially for areas south and east of I-95. This will be a quick moving but strengthening storm. As a result, Rain and snowfall could be heavy at times tomorrow morning. The heavy precipitation and gusty winds will make travel difficult even if the roads stay wet. Conditions will improve as the storm pulls away, but expect winds to continue to gust into tomorrow night.
---
Stay up to date with storm information on your favorite social media site! Follow me on Twitter, Facebook and Google+!


Want the latest blog posts emailed to you?
---