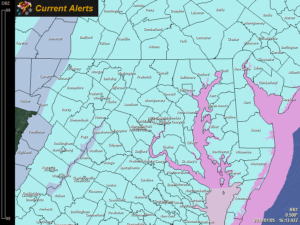 Current Watches, Warnings and Advisories issued by the National Weather Service:
---
A *WIND CHILL WARNING* is in effect for: Allegany, and Garrett counties.
---
---
A *WIND CHILL ADVISORY* is in effect for the rest of the state.
---

---
The storm has departed, leaving us with gusty northwest winds, bitterly cold air and blowing and drifting snow.
Although it was hard to measure due to blowing and drifting, the NOHRSC has processed official reports, showing how much fell across the state (left). On the right, is my forecast map, for comparison: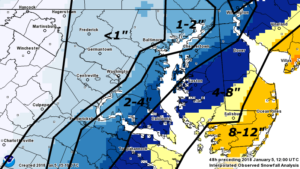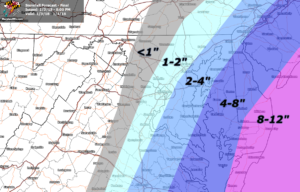 As expected, the lower Eastern Shore took the brunt of the storm, with 8-12″ of snow and wind gusts over 50mph. Also, snow totals dropped dramatically as you move westward, especially west of the bay.
For a very tricky forecast, the storm largely behaved as expected and snowfall totals were pretty much in line with my thinking. Meteorologically, it lived up to the hype, "bombing out" and is now responsible for this brutally cold air that is flowing in on gusty northwest winds. At one point the storm dropped 59 mb in 24 hours! That is an incredible pressure drop, considering that to "bomb out" it *only* has to drop 24 mb in 24 hours. It's minimum pressure (950 mb) was lower than most of the named storms this past hurricane season and ended up lower than both the 1993 "Storm of the Century" (960 mb) as well as the "Perfect Storm" in 1991 (972 mb.)
We will continue to feel the affects of the system through this weekend with cold air and breezy conditions. Highs today and tomorrow will struggle into the teens, but the good news is, the pattern will shift next week and temperatures will actually be near normal early next week and may go above normal by the end of the week.
---
Stay up to date with storm information on your favorite social media site! Follow me on Twitter, Facebook and Google+!
Want the latest blog posts emailed to you?
---
Comments
comments