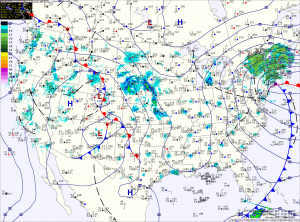 As yesterday's storm pushes northeastward and away from the area, another is taking shape over the Rockies and will move into the area by Saturday morning.
Behind the storm that brought snow, sleet, freezing rain and a lot of plain rain (storm total of 1.31″ here) to the region, skies will gradually clear as northwest winds gust to near 50mph today. A Wind Advisory is in effect until 6pm.
Winds will decrease tonight as weak high pressure builds in tomorrow, providing a calm and tranquil day. Highs will be in the low to mid 40s.
Precipitation will push into the area early Saturday morning. The models are in agreement that the initial precipitation will fall in the form of snow. The models disagree however, on if it will remain snow and how much will fall.
Currently, the American models keep the storm fairly weak, and push it off the coast before it develops. They also warm the central and eastern portion of the state, changing the snow over to rain by Saturday afternoon.
The European model, on the other hand, develops the storm much closer to the coast and keeps the colder air in place. This model is showing a significant snowfall for our area and into New England. Storm totals of 4-8″ would be likely if this model is correct.
We will definitely see precipitation Saturday, at least starting as snow. How much we get and how much of it falls as snow will be worked out in the 24 hours or so.
Yesterday's Weather Station Stats:
High Temp: 48.2°
Low Temp: 31.8°
Rain: 1.24″
Comments
comments