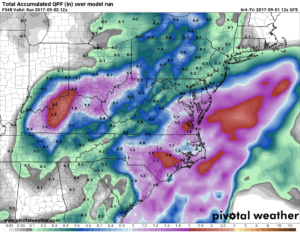 The remnants of Hurricane Harvey will continue to move towards our area today, with showers overspreading the state from southwest to northeast.
Showers will move in later today into tonight, with showers and thunderstorms likely through the day tomorrow. Showers and storms will linger tomorrow night into Sunday morning before finally clearing out Sunday afternoon. Highs on Sunday will be in the mid to upper 70s.
Rainfall totals will vary based on which areas see thunderstorms but will generally range from .25″ to over 1″ with the heaviest amounts likely across southern Maryland and the lower Eastern Shore where more storms are likely.
Labor Day will be pleasant, with mostly sunny skies and highs in the low to mid 80s.
Looking ahead, Tuesday will be warmer but will remain mostly sunny with highs once again into the 80s.
---
Stay up to date with storm information on your favorite social media site! Follow me on Twitter, Facebook and Google+!
Want the latest blog posts emailed to you?
---
Comments
comments