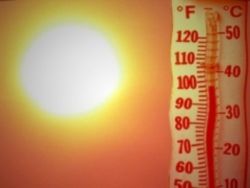 The first sustained heat wave of the season will push temperatures into the 90s here in Maryland starting Sunday and persisting into the middle of next week.
After a chilly start this morning, temperatures will climb into the low to mid 70s under mostly sunny skies this afternoon. We will add a few degrees to highs tomorrow, approaching 80 in most spots.
Saturday will be in the low to mid 80s with a slight chance of an afternoon shower or thunderstorm.
Sunday will be the first day of the heat wave with highs around 90. The heat will continue to build Monday and Tuesday with highs in the low 90s on Monday to mid 90s on Tuesday.
We will drop back a bit on Wednesday, with highs around 90.
As this is the first heat wave of the year, be sure to take extra precautions, limit outdoor activities during the afternoon and be mindful of symptoms of heat-related illness.
---
Stay up to date with storm information on your favorite social media site! Follow me on Twitter, Facebook and Google+!
Want the latest blog posts emailed to you?
---
Comments
comments